A Red Circle, founded in 2017, exists to promote community betterment in North St. Louis County, through a racial equity lens.
A Red Circle is a member of the North County Covid-19 Vaccine Outreach Committee. This important work is crucial in ensuring the vaccine is distributed equitably and that our community's concerns are answered with truth and dignity.
Click here to view our Covid-19 Vaccine for North County page.
Current concerns in North St. Louis County that impact quality of life and health are the lack of sustainable jobs, education disparities, limited healthy food access, financial pressures, low voter participation, and exposure to the arts. We approach these issues in a holistic, collaborative way – working with residents, elected officials, community leaders, volunteers, and more.
---

Happy Anniversary! Help A Red Circle celebrates its four-year anniversary by viewing our video looking back over our four years and contributing to our Four-Year Anniversary Fund!
---
Announcements

You can buy t-shirts, masks, buttons, lip balm, and bracelets. Your purchases will support our mission statement, "The holistic betterment of our community; reversing the effects of racism one person and cause at a time." The artists are local too!

Stl Mutual Aid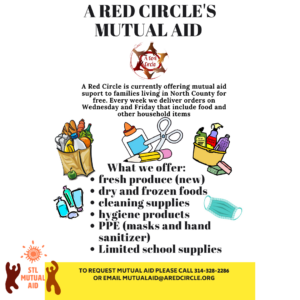 If your family can use a little extra support during the Covid-19, please contact our office at 314-328-2286. We will help with food, cleaning supplies, hygiene products, and family resources.
Emergency Diapers

A Red Circle will also support your family with emergency diapers or pull-ups. Call us at 314-328-2286.

---

CALENDAR OF EVENTS



---
Don't forget to sign up for our newsletter,
The Quarterly Circle.
It's easy and you can find the form on our home page.
Read the latest edition here!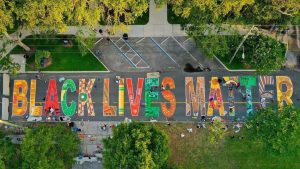 A Red Circle's mission statement is, "The holistic betterment of our community; reversing the effects of racism, one person and cause at a time."
…because all blood is red