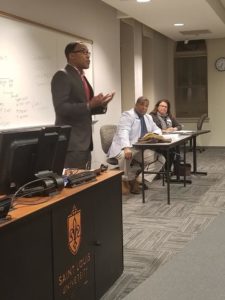 Eric Madkins of Regions Bank explaining economic development
challenges over the years.
The power of the Black Dollar is extremely significant and we must use it to better the communities and neighborhoods in which we live.
In 2018, A Red Circle hosted seminars on estate planning, credit boosting, investing, economic development, and more with wonderful community partners such as Operation Hope, Regions Bank, Paule, Camazine & Blumenthal, P.C., and The Guardian Life Insurance Company of America.
Be sure to sign up for our Newsletter to learn about 2019 Financial Empowerment seminars.